Sound estate planning should be a team effort between legal, accounting, financial and insurance professionals working together towards one cause: to optimize an estate plan that will support and meet your personal and/or familial goals and objectives.  In case of business owners, their business must be included in the equation too.  All the pieces of the puzzle must fit.
To get a group of professionals together to work for your benefit, [tweet_dis excerpt="You have to be the starting point of a sound estate plan #successionplanning via @rubachandassoc"]you have to be the starting point. [/tweet_dis]Many individuals are aware that they need to have an estate plan to secure their successors' future. However, many find it mentally draining to even think about it. Truth is, you have to make an effort. It's up to you to start the conversations, to stay involved and informed.
[tweet_box design="default" excerpt="Take the stress out of #estateplanning: work with professionals who'll work cohesively for your benefit via @rubachandassoc"]Working with professionals who will work cohesively for your benefit, will make the estate planning process much easier for you.[/tweet_box]
[tweet_dis excerpt="Take the stress out of #estateplanning: here's the process. via @rubachandassoc"]Basic estate planning process:[/tweet_dis]
Initial Fact Gathering: such as your family status, employment, income, expenses, liabilities, health and in general, your financial picture.
Detailed Fact Gathering: going deeper into the initial fact gathering by considering caring for children or aging parents, protecting against the effects of a possible loss of income due to death or disability and other health concerns.
Personal & Family Goals, Lifestyle Needs & Objectives: you need to take a close look, decide and provide input about your and your family's objectives.  In doing this, special attention should be paid to blending families and protecting the surviving spouse.
Evaluation of Information: the professionals you're working with will evaluate the provided information and begin analyzing the best way to help you achieve your objectives.  The accountant will play a very important role at this stage as he or she will have to do tax efficient planning and potentially find tax savings opportunities.
Presentation and Implementation of the Plan: that will incorporate appropriate legal and tax minimizing structures as well as financial and insurance options.
Continued Monitoring of the Plan:  things have a way of changing.  The need to update your estate plan will be dictated among other many variables, by changes in your family, accumulation of assets, etc.
Be wary of advisors who say they can provide a sound estate plan without involving other professionals.
[tweet_dis_img inject="Take the stress out of #estateplanning with this info via @rubachandassoc"]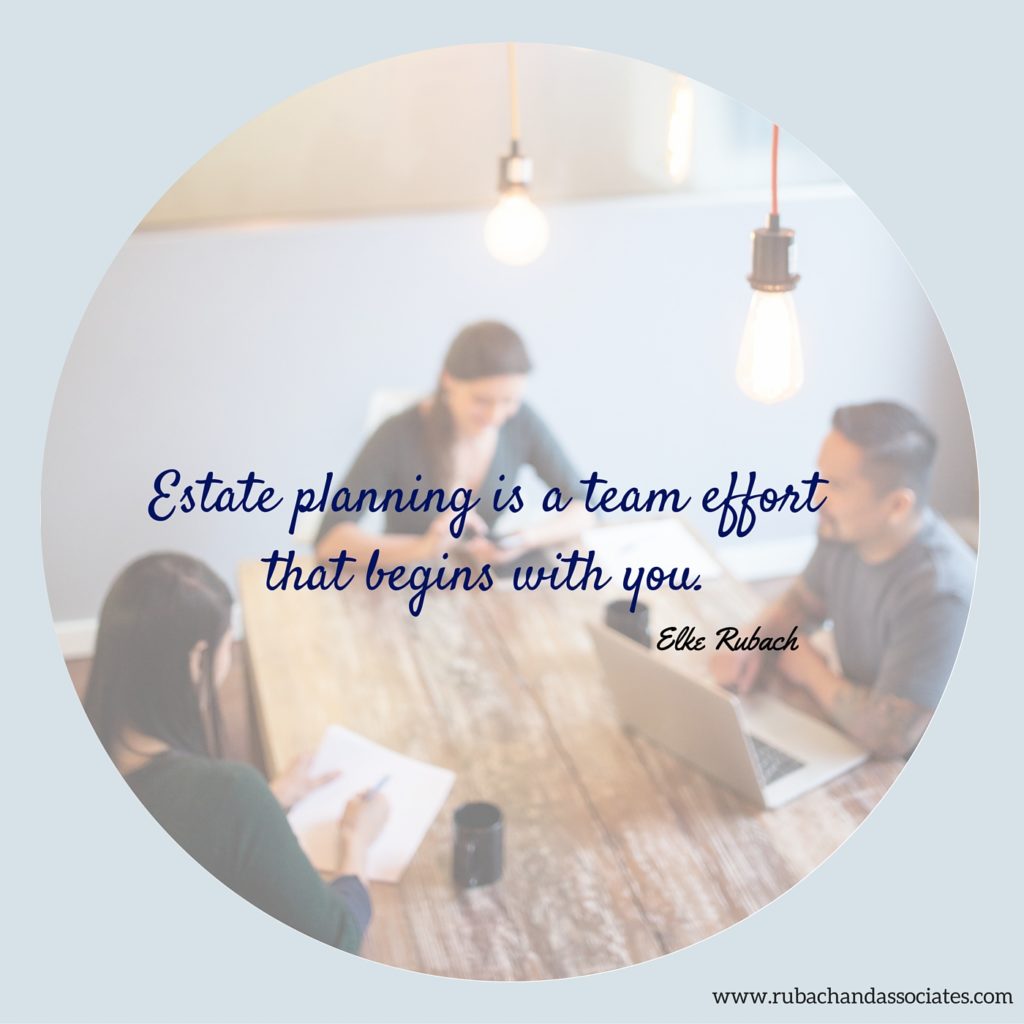 [/tweet_dis_img]
Stay informed about your options, what happens and how it happens. Even though there are basic fundamentals in estate planning, each estate plan is different because all of our situations and objectives are different. Thus, work with a trustworthy team and evaluate your estate plan on regular basis.
Estate planning articles based on specific situations:
Estate Planning Checklist: How to Protect Your Future, Your Family, and Your Property: a to-do list for preparing an estate plan and avoiding any serious omissions or mistakes. via: The Montley Fool
6 Estate Planning Moves You Should Make in Your 30s: this could be the best time to start acting to protect your family and your assets in case the unexpected occurs. via: Daily Finance
Estate Planning for Single People: estate planning for a single person is equally as important. In many instances, a single person may need to do things differently and the consequences of not having a well-coordinated plan can create real problems. via: Market Watch
Estate Planning for Unmarried Couples: we live in an amazing time in which individuals are defining what it means to be a family. As you take charge of your life in this way, know the costs and benefits of your choices and do appropriate planning around them. via Huffington Post
Estate Planning for the Single Parent: with some preparation and planning, your children can be well-cared for even if you are not the one to do it. A well-drafted and thoughtful estate plan will reduce stress and conflict at a difficult time. Here are the documents of an estate plan and how they can help you as a single parent. via: Huffington Post
If You're in a Second Marriage, You May Need to Revisit Estate Planning: second marriages and blended families are quite common, given current trends.  This presents a unique set of issues when it comes to estate planning. via: Huffington Post
Don't Neglect Online Accounts When Estate Planning: there is one growing area many overlook, which can cause significant headaches for surviving family members: our digital lives. via: Investopedia
If you do not have an estate plan: what's the biggest barrier for you to get started? Please comment below.