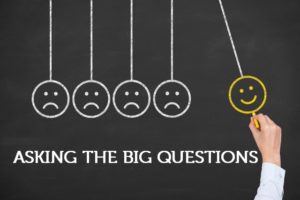 A new year has begun, and just like every year, 2018 will have its share of ups, downs and surprises. When it comes to managing your wealth, the focus is often on long-term planning to protect against short-term blips and keep you moving forward toward your goal.
But what is your goal? Is it to retire with a certain amount of money in the bank? Is it to ensure financial security for your children and grandchildren, so that they will never have to worry about money after you're gone? Or is it to leave a mark on your community or the world?
Tax-efficient strategies for growing and preserving your wealth are an integral component of sound wealth management, but they are only a means to an end. If the management of your wealth is not guided by your values, you may one day find yourself with piles of money and no idea what to do with it.
That's why it is crucial for your wealth planning to be driven by big-picture goals tied to your values. And to gain clarity on these goals, you need to start by asking the big questions. For example: when it comes down to it, what does wealth and money actually mean to you?
Understanding what drives you
People spend much of their life directing time and energy toward their career or business. For many, this is simply a matter of survival, but this motivation is less applicable for high achievers who are already able to meet their immediate financial needs.
To reveal what truly drives you, you need to dig deeper. This involves thinking about not only what you want to do, but also why you want to do it.
Perhaps you want to build wealth that you can pass on to your children, but what are your underlying motivations and concerns? Do you want to give them the resources to achieve incredible things in life, or are you worried that they may lack the capacity to support themselves once you're gone? On the other hand, maybe you are grappling with how best to provide them with a comfortable life without leading them down a path toward excessive privilege or entitlement.
Alternatively, you may be motivated to build your wealth so that you can share it with others through philanthropy. Yet even here, it is important to look deeper. Is your goal simply to give as much as possible and help as many people as you can? Or do you view philanthropic giving as an opportunity to become actively involved in tackling social issues and guiding social development in a hands-on capacity?
These questions are not always obvious and the answers are not always clear, but pursuing them will lead to greater alignment between your goals and your values.
Guided by values
Your decisions and actions today will influence what happens 10, 20 or 40 years from now. To avoid reaching the finish line and looking around to see where you've arrived, you need to create a roadmap for where you want to go.
At Rubach Wealth, one of our key roles is to act as a sounding board for our clients as they develop this roadmap. As you uncover and make sense of your core motivations, we can work with you to translate these into meaningful, overarching goals that will frame our relationship.
We can't predict what 2018 will throw your way, but we can help you identify any gaps in your plan and take advantage of any opportunities that pop up. More importantly, we can help you maintain your focus on the big picture and chart a course forward that is guided by the values closest to your heart.
[tweet_box design="default"][/tweet_box]